My perfect ink-stained new bag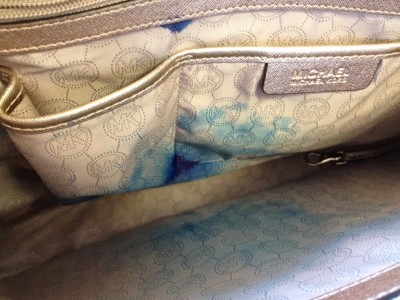 My new handbag is perfect.
The bling-gold complements everything in my wardrobe.
It's large enough to hold my Macbook Air (non-negotiable for all new handbags).
The straps are long enough to fit easily under my arm, but not too long that the bag drags on the ground when held in my hands.
There are pockets for make-up, cell phone, pens ….
Pens. As instructed by the flight crew on my return flight from my second trip abroad after receiving this beautiful gift, I put away everything in preparation for landing. Next morning, I opened my bag and discovered ink stains all over the lining. My pen had leaked. My new bag was ruined.
I was very upset that the bag was spoiled, but more so with myself for being so careless. But, in typical Marguerite-style, I went into fix-it mode. First stop? Google of course. "Bag cleaning in Toronto" revealed a number of options, including one where I could get an online quote. Within 24 hours I learned that the bag could be cleaned at an estimated cost of $104.00. Uh oh … that's a lot of money to clean the INSIDE of a new bag.
Plan B: I checked in with the Michael Kors store and they suggested I take it to a dry cleaner. Great – there's one right opposite my home. I dropped it off and prepared to collect it in two weeks. Alas … the dry cleaner called after a few days to advise that they cannot clean it.
Plan C? I breathed. And wrote in my gratitude journal:
"I celebrate and am grateful for the blessing of Divine Right Action in cleaning my MK bag. I accept my beautiful bag as it is. It is still beautiful. It is still a beloved gift from my beloved. It is perfect".
One month later, I am happily using my beautiful bag every day. It is perfect. What changed? Not the ink stain – it's still there, although I hardly notice it. I changed. And that changed everything.