There are always loving hands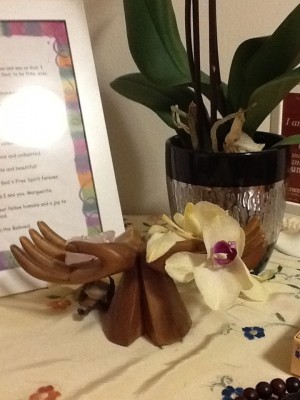 I have created an altar in my bedroom on which I place objects that are sacred to me. Not because the objects themselves are sacred, but because of what they mean to me. One thing I always keep on the altar is a blooming orchid plant to signify beauty, life and the transcendent nature of life. I also have a wooden hand carving that I bought last year. I don't know why I did, but I was just drawn to it and had to have it (I actually saw a friend with one and dragged her to the store so I could get one too. It just drew me in).
I love this photo that shows two orchid blossoms that died and fell off right into the hand carving. It says to me "Marguerite, there are always loving hands to catch you".
And now I know why I had to have those hands.