How does one live to be 109 years old?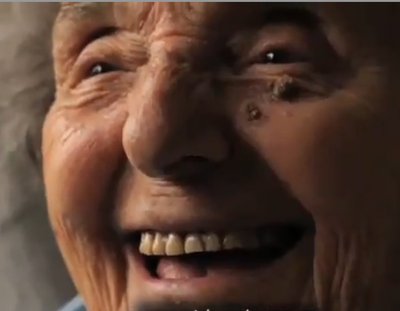 My friend, Alice Herz-Sommer knows how. She's my friend, even though I have never met her. For whenever I see her photograph or a YouTube clip I feel a connection born out of our shared love of life, of laughter, of living. She is exactly who I want to be when I "grow up".
I blogged about Alice in November 2010 – click here to view post. And yesterday, I received this request from Dave:
"I am writing on behalf of the makers of the Academy Award-qualifying documentary "The Lady in Number 6" and I wanted to let you know about the new full-length film on the story of Alice Herz-Sommer. I've been looking at Free and Laughing, see that you've featured an earlier article about Alice Herz-Sommer, and think your readers might like to learn about "The Lady in Number 6."
Would you be willing to create a post in your own style about the new trailer? "The Lady in Number 6" explores the heartwarming story of how music saved her life in the face of the enduring tragedy of the Holocaust."
I immediately viewed the trailer – click here to watch. It felt like I was visiting a dear friend whom I had not seen for a long time. I reconnected with Alice, smiling, enjoying her vitality, her sense of optimism and hope and her insight into the power of music – "It goes right into your soul".
How does one live to be 109 years old? By living every single day, as if it's the only day. I think that's what Alice learned at Auschwitz – there is only one day, the day you are living now, in this moment. So live it. Because nothing else is promised to you.