Jamaican Lady Got Personal Growth On Ski Slope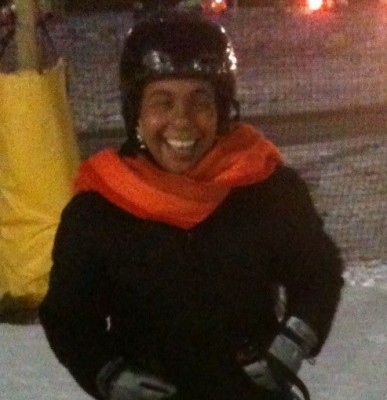 When I moved to Toronto in 2009, one of the best pieces of advice I received from Canadians was that to enjoy winter, I should find a winter sport.  In my second winter, I tried iceskating – had great fun, even though I spent quite a bit of the time on my butt.
Now in my third winter, I decided to start skiing.  I have been having the time of my life and am totally hooked.  I have already invested in ski gear and am now looking for great deals on equipment, in preparation for a very busy 2012/13 winter season.  Now when it snows, I smile.  I am even a bit (just a bit) sad that we have had such a short winter!
My instructor, Clint Cora, surprised and delighted me with a video he did on my ski experience.  He is so right – I DID get personal growth.  I was reminded that:
'Yes I can" do anything I set my mind to
Asking for help is the best way to learn a new skill quickly – Clint is such a caring and compassionate coach!
The quality of my experiences are a result of how I look at them – and not the experience itself.  Note that I am now looking forward to next winter (even as I look forward to spring and summer)
It's never too late to learn.  Yes, I am in my 50s (ooohh ….) but I still have that daredevil streak in me that keeps me pushing my limits!
Fear shouldn't stop you – just do whatever you want in spite of the fear (like tackling the blue slope)
Here is the link to Clint's video – you can't miss me – I am the little pink bunny happily sliding down the hill!
http://www.youtube.com/watch?feature=player_embedded&v=LnabX3U_3PA