All is good today – and always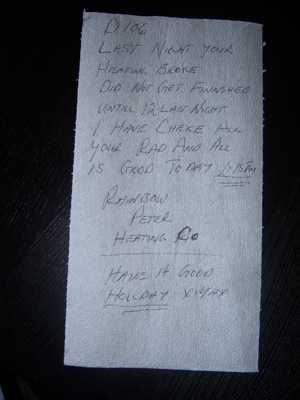 Imagine returning on New Year's Day to Toronto (-10 Celsius) from 12 days in Jamaica (+30 Celsius) to find that the radiator in your home is not working!  Remember, this is a public holiday, with nowhere open.  You do not know how to get the radiator fixed, as you have never had to have a radiator in Jamaica.  You do not know where to turn.  What do you do?
Thankfully, I never had to answer that question last night.  For I returned to Toronto to find this note on my breakfast table:
"LAST NIGHT YOUR HEATING BROKE
DID NOT GET FINISHED UNTIL 12 LAST NIGHT
I HAVE CHEKE ALL YOUR RAD AND ALL IS GOOD TODAY 1.15 P.M.
RAINBOW
PETER
HEATING CO.
HAVE A GOOD HOLIDAY XMAX"
Yes, Peter, you blessed soul –all is good today. I thank you from the bottom of my heart for your dedication to getting a problem that I did not even know I had, fixed.  I thank you for your kindness is leaving this lovely note and your wish for a good holiday.  Your kindness will return to you in abundance.  But most of all Peter, I thank you for reminding me that all is well – always!
At the beginning of this wonderful New Year, 2010, I wish for you an abundance of Peters in your experience – kind, caring souls who solve problems before you even know you have them and that you live in a consciousness that ALL is well – ALWAYS!